Best I Faced: Livingstone Bramble
Livingstone Bramble (right) in action against Ray Mancini.
Livingstone Bramble was a skilled lightweight, who held the WBA crown for 18 months in the mid-1980s, causing something of a surprise unseating poster-boy Ray Mancini to win the belt.
Bramble was born in St. Kitts and Nevis on Sept. 3, 1960. He enjoyed a good life growing up. His father worked in the sugar cane plantations and was able to provide the family with food and resources. In the early-'70s, his mother, father, seven sisters and two brothers moved to the Virgin Islands.
"My father wanted to move for the better schools and to make a better life for the family," Bramble told RingTV.com.
One of the youngsters' principal jobs was to look after the family cow. Every day he would take the cow to graze up in the hills and bring it back down to sanctuary near their home, avoiding the perils that would behold it in the evening. Also, in the early-'70s, Bramble was given a green card, helping him explore new horizons, one of them boxing.
Although boxing was very popular in the Caribbean, the sport didn't have the same infrastructure as North America. With only future two-division Julian Jackson to rival him on the Islands, Bramble made his way to the mainland to try his hand.
He fought at the 1980 Golden Gloves, losing in the semifinal round to eventual winner Bernard Taylor. However, his efforts didn't go unnoticed. He was awarded the "Outstanding Boxer Award" for the tournament.
"Me winning, that was a shocker for even myself," he said with a chuckle.
Bramble was all set to represent the Virgin Islands at the 1980 Olympics but because of the U.S. boycott and the Virgin Islands being under U.S. rule, he missed out. He decided to make the transition to the pros, leaving the amateur stage with a record of  43-4 (27 knockouts). He debuted shortly after his 20th birthday and went 19-1-1 before meeting then-unbeaten Rafael Williams. Bramble outboxed the Panamanian-born fighter en route to a unanimous decision.
The win earned him a shot at Mancini in the summer of 1984. Few gave the Virgin Islander much hope. He was tabbed as a 4-1 underdog with the bookies, ahead of his first world title fight when he entered the ring in Buffalo, New York.
He clearly paid no respect to the oddsmakers or Mancini and became St. Kitts and Nevis' first – and to this day – only boxing world champion.
One non-title fight and eight months later  the two met again in rematch, again  Bramble  won, eking out a razor thin 15-round unanimous decision, by a single point on all three scorecards.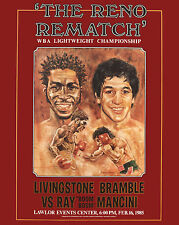 Bramble sat out for the remainder of '85 because of managerial issues and a problems with his hands and shoulder. When he returned, he stopped  mandatory challenger Tyrone Crawley in the 13th round. He met former WBC beltholder Edwin Rosario and, this time, Bramble was the 4-1 favorite. After a good opening round, Bramble was caught by a thumb to the eye, went down and was counted out.
After the Rosario reverse,  Bramble never won another world title but stayed in the sport for another 17 years with mixed success. He did win the USBA junior welterweight title in the late-'80s before slowly fading into gatekeeper status in the '90s. He was still able to give a good account of himself and was a stern test for fighters making their bones in the sport, among them a young Oba Carr, up-and-coming Kostya Tszyu and savvy veterans like Buddy McGirt, Charles Murray (twice) and Rafael Ruelas.
The eccentric Bramble dropped a unanimous decision to Ruelas in the summer of '96  but remembers the aftermath well: "The Ruelas kid, he would headbutt. He was rough. I came home after that fight and my girlfriend didn't want to have sex, my face was so beat up! (laughs)
After losing for the sixth consecutive time, Bramble stepped away from the sport in 2003. He refuses to rule out a comeback and his record stands at 40-26-3, (25 knockouts). Despite fighting past his prime, he was only stopped five times in his career.
Looking back, Bramble feels his proudest moment is achieving what he did in his career.
"My proudest moment was winning the title because of where I came from," he  said. "We did it. I'm proud of what I've done for myself and the people who supported me. They still want me to come there and work with the kids."
Bramble, 56, lives in Las Vegas but intends to move back to St. Croix when the lease on his property is up next March. He is divorced but has five children.
He is an animal lover and currently has two pets, a dog and snake. The dog was a gift from the WBC, that he has since paid to be trained as a service dog. However, over the years, he's homed a menagerie of animals, including various snakes and reptiles. In the '80s,  Bramble, one of life's characters, once had a snake he named  "Dog" and a dog named "Snake." Only in boxing!
Bramble graciously took time to speak to RingTV.com about the best he fought in 10 key categories.
BEST JAB
Anthony Fletcher: He was a southpaw and he boxes really well. He was able to do the shoulder roll. I had a great jab, nobody controlled me with a jab, if they did you'd never have heard of me.
BEST DEFENSE
Kostya Tszyu: That would have to be Kostya Tszyu. He was very hard to hit. He punches real hard and he kind of pulls back when you come at him but you couldn't charge him because he had so much power, so you had to be careful how you go into him.
FASTEST HANDS
Charles Murray: He was outspeeding me in the second fight. The first one, I think I had that one. The second one I took at a week or twos notice.
FASTEST FEET
Rafael Williams:  It's tough to characterize the guy who had the fastest feet. Rafael Williams had good feet. He had good power. He hurt me in the fight but nobody knew that. I mean, really hurt me in the fight.
BEST CHIN
Ray Mancini: There's no fighter who had a chin like Ray. He was very tough. I landed some shots that he should have went out with. He was always there. He took a real good shot.
SMARTEST
Buddy McGirt: That was Buddy McGirt, by far. I never expected him to throw 20 punches and make me block and took off. Nobody has ever done that to me in my entire career and that's the way to beat me. He threw about 20 punches and I blocked and, when I opened up, he was on the other side of the ring and he did it over and over. I'm thinking, in my heart, 'He can't do this forever,' but he did. He really got me that way and there was nothing I could do. He kept me blocking because he had a little bit of power and then took off.
STRONGEST
Rodney Moore: Ray Mancini was strong but he wasn't going to push me around. Rodney Moore was strong. I came up in his weight class. I was surprised at how strong.
BEST PUNCHER
Tszyu: There's nobody I've been in the ring with that hits as hard as Tszyu. Roger (Mayweather) punched hard but, if you look at the tape, Roger hit me behind the ear. It wasn't a legitimate, correct punch. I can't give it to him. I don't know if it was because of how old I was or where I was at in my career but Kostya Tszyu was a hard puncher. The guy stayed focused. He knew where to hit and he knew when to hit. When he hit me, the first shot to the kidney, I dropped. My kidney shut off. There was nobody who hit me and gave me something to think about…he did. When he hit me, I said to myself, 'Man, I've got a wife and kids. This guy's not killing me.' I thought about my family in the ring. Kostya hit like a mule. You couldn't take two good shots from Kostya Tszyu because you'd be totally done.
BOXING SKILLS
McGirt: It comes back to the same guy, Buddy McGirt. He kept me covering up and moving all night. It was a very smart move by Buddy. He just kept me blocking and moving around.
BEST OVERALL
Tszyu: Only a couple of guys I learned something from. I learned something from Roger Mayweather. He was very strong. I would think Kostya Tszyu. I think it was his power. He was a very difficult guy to fight.
Sian Stewart helped contact Livingstone, while Colleen Aycock and Noy Bramble assisted in making  this feature possible. RingTV.com appreciates their assistance.
Questions and/or comments can be sent to Anson at [email protected] and you can follow him on Twitter @AnsonWainwright.
Struggling to locate a copy of RING magazine? Try here or…
SUBSCRIBE
You can subscribe to the print and digital editions of RING magazine by clicking the banner or here. You can also order the current issue, which is on newsstands, or back issues from our subscribe page. On the cover this month: Double Olympic gold medalist Claressa Shields. The U.K. Issue featuring cover star Carl Frampton is available now.